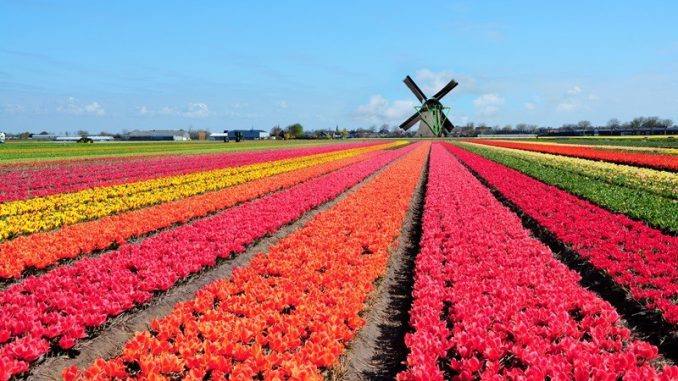 Bersama ini kami sampaikan informasi beasiswa terbaik di Belanda untuk warga Indonesia, Berikut ini:
Netherlands/EU Government Scholarships for International Students
Netherlands Fellowship Program
The Netherlands Fellowship Programmes (NFP) promote capacity building within organisations in 51 countries by providing fellowships for training and education for professionals. The NFP is initiated and fully funded by the Dutch Ministry of Foreign Affairs from the budget for development cooperation.  The NFP offers fellowships for Master studies, PhD studies, or short courses at Dutch Universities or academic institutions.
Holland Scholarships
The Holland Scholarship is meant for international students from outside the European Economic Area (EEA) who want to do their Bachelor's or Master's Degree at participating Universities in Holland.  The scholarship amounts to € 5,000 which you will receive this in the first year of your studies.
Erasmus Mundus Scholarships in Netherlands
Dutch Universities participate in quite a number of study programs which are funded by Erasmus Mundus Scholarships.  The scholarships allow international students to pursue a participating Erasmus Mundus study program in Netherlands.
Dutch Colleges and Universities that offer Scholarships for International Students
Leiden University Excellence Scholarships
The Leiden University Excellence Scholarship Programme (LExS) is open to outstanding non-EU/EEA students pursuing any MA, MSc and LL.M programmes offered at Leiden University. The scholarships come in the form of the following: €10,000 of the tuition fee, €15,000 of the tuition fee, or total tuition fee minus the home fee.
University of Maastricht High Potential Scholarships
Maastricht University (UM) offers the UM High Potential Scholarships to talented students from outside the EEA to follow any UM master's programme or graduate programme for professionals offered at the University, except for School of Business and Economics.  The scholarships cover tuition fee, living expenses per month, insurance, and visa costs.
Radboud University Scholarship Programme
The Radboud Scholarship Programme offers a selected number of talented prospective non-EEA students the opportunity to receive a scholarship to pursue a complete English-taught Master's degree programme at Radboud University Nijmegen. The scholarship is not an amount of money that you will receive on your bank account but consists of a partial tuition waiver. The tuition fee will be waived to the level of an EEA student. In addition the Radboud Scholarship also covers costs such as for visa, residence permit, health insurance and liability insurance.
Utrecht University Excellence Scholarships
The Utrecht Excellence Scholarship offers a number of outstanding prospective students the opportunity to pursue a Bachelor's or Master's degree in a selected number of fields at Utrecht University.   The Utrecht Excellence scholarship can be awarded as tuition fees OR tuition fees plus 11.000 euro living expenses.
Erik Bleumink Scholarships at University of Groningen
The Erik Bleumink Fund Scholarships are usually awarded for any 1 year or 2 years Master's degree programme offered at the University of Groningen.  The grant covers the tuition fees plus the costs of international travel, subsistence, books, and health insurance.
TU Delft Excellence Scholarships
The Delft University of Technology offers a number of excellence scholarship programs for international students. The Justus & Louise van Effen scholarship is one of those programs and it aims to financially supporting excellent international MSc students wishing to study at TU Delft. The scholarship is a full scholarship – coverage of tuition fees and monthly allowance for living expenses.
Amsterdam Excellence Scholarships (Netherlands)
The Amsterdam Excellence Scholarships (AES) awards scholarships to exceptionally talented students from outside the EU to pursue eligible Master's Programmes offered at the University of Amsterdam. The AES is a full scholarship of €25,000 covering tuition and living expenses.
University of Twente Scholarships
University Twente Scholarships (UTS) are scholarships for excellent students from both EU/EEA and non-EU/EEA countries, applying for a graduate programme (MSc) at the University of Twente. The scholarship amount is from € 6,000 – € 25,000 for one year.
VU University Amsterdam Fellowship Programme
The VU Fellowship Programme (VUFP) offers talented prospective students from outside the EU/EEA the unique opportunity to pursue a degree in a selection of Master's programmes at VU University.  The fellowship awards €15.000 to students paying the tuition fee for non-EEA students.
The Hague World Citizen Talent Scholarship
The Hague University offers scholarships to outstanding international students who would like to pursue their Bachelor programme at the University.  At €5,000 each, the scholarships cover almost two-thirds of the total first year university's tuition fee and will only be awarded once.
Demikian informasi yang dapat kami berikan mengenai informasi beasiswa terbaik di Belanda untuk warga Indonesia, semoga bermanfaat
Bikin Polling di PollingKita.com, Informasi Lowongan Kerja di www.InfoKerja.net, Informasi Biaya di www.Biaya.info